You are here
on display: Catherine Biocca
Catherine Biocca
opening
Thursday, 19.02.2015 - 7:00 pm
opening hours
tuesday - friday
11.00 - 19.00
saturday, sunday
12.00 - 18.00
location
basis e.V. Gutleutstraße 8-12 60329 Frankfurt am Main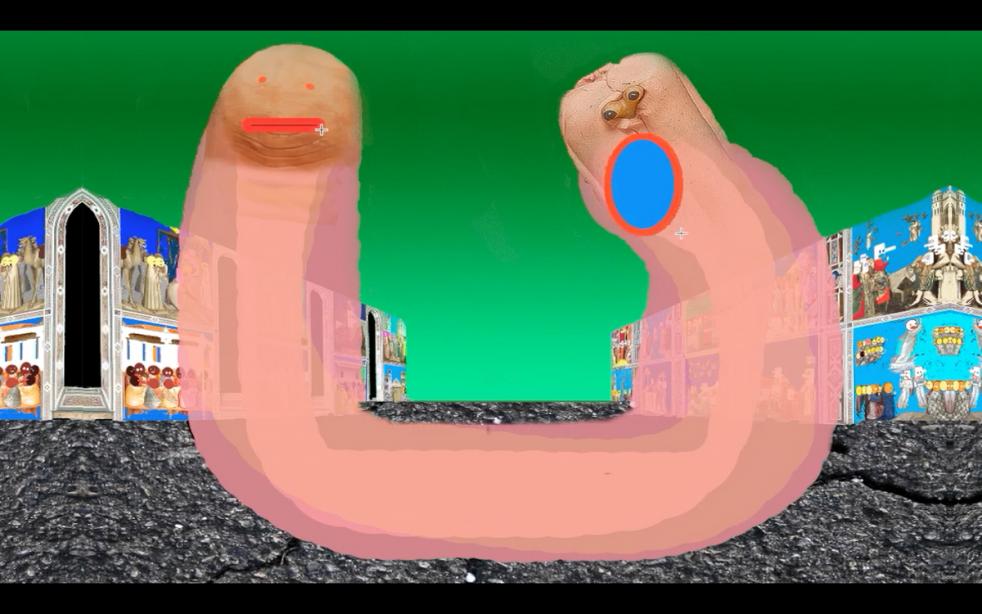 on display is an exhibition format specially conceived for the basis reading room. Young artists are invited to present current videos parallel to the exhibition program in a regular monthly cycle. The solo presentation at the reading room gives the public a chance to engage intensively with the work in question, and, further, over a long period the opportunity to get to know works by a wide range of young artists working in the field of moving pictures.
We are delighted to present two works by Catherine Biocca from February 20 to March 18, 2015. The opening will take place on February 19 at 7 pm.
The characters in Catherine Biocca's video works call to mind cartoon or animated figures that are embedded in events and simple settings that seem trivial at first. Snapshots of human behavior and found scenes form the basis for short digital collages in which an element of brutality or comedy always inheres. Biocca combines graphics, animation, and fashion programs to shape her flat, anthropomorphic beings that she then animates in two-dimensional worlds. What interests her here is the possibility of utilizing these programs contrary to their inscribed program codes. New potentials are identified and the bounds of the digital material tested out, whereby the breaks and levels of the different fragments remain visible. The potential violence defining the plot and above all the comedy of many animated films and entertainment programs is deconstructed, yet nonjudgmentally. The artist is interested in disrupting and challenging habitual viewer expectations, and through the juxtaposition of different levels she develops new spaces of perception and reality.
Catherine Biocca (b. 1984 in Rome) lives und works in Amsterdam.
on display: Catherine Biocca on facebook.
on display is curated by Gislind Köhler
Kindly supported by: