You are here
No matter how thick the glass
Ifie Sin
Tuesday, 11.09.2018 - 6:00 pm

to

Sunday, 16.09.2018 - 8:00 pm
location
basis project space, Elbestraße 10, 60329 Frankfurt am Main
Ifie Sin - No matter how thick the glass
Opening: Tue, 11 September 2018, 6pm
Exhibition: Wed - Sun, 12 - 16 September 2018, 5 - 8 pm and by appointment
basis project space, Elbestraße 10 HH, 60329 Frankfurt am Main
curated by Isabelle Tondre
We cordially invite you to the opening of the exhibition "No matter how thick the glass" by Ifie Sin on 11th September 2018 at 6pm.
Ifie Sin (*1981) has been the selected AIR_Frankfurt guest artist from Seoul at basis Frankfurt from July to September 2018. The exhibition concludes the three-month residency and presents amongst others her new video work "Emotion of leg" and the installation "Laboratory".
In Ifie Sin's work, images are always to be perceived through a different type of filter: whether a microscope, a camera or the lens of a projector, her modes of transmission expose optically augmented and diminished realities. Beyond the act of looking, to observe means asking questions and seeking answers on the outside. Observing is also to comment, to formulate a critique, and can eventually open up to speculation and prediction. By wandering, collecting and noting, Ifie Sin relies on concrete facts and observation to build subjective, untold narratives. The title of the exhibition No matter how thick the glass marks the limits of "looking" at reality through a single lens, and underlines the artist's endeavour in her quest for alternative perceptions. Her films and installations unfold preoccupations around gender issues, social reclusion and exile in South Korea and elsewhere, passing through greatly different scales - from vast landscapes to micro skin pores (...).
Text: Isabelle Tondre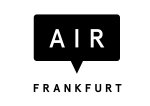 AIR_Frankfurt is a cooperation between basis Frankfurt and the MMCA Residency Goyang (Seoul, South Korea) and is funded by the city of Frankfurt.