You are here
Catalogue Release: State of the City
Friday, 16.12.2016 - 7:00 pm
location
basis e.V. Gutleutstraße 8-12 60329 Frankfurt am Main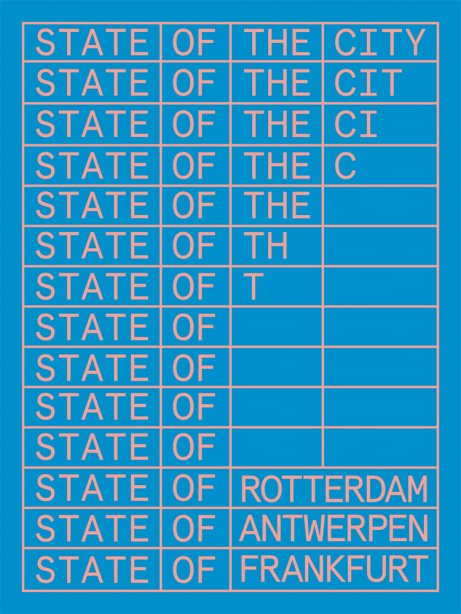 We are delighted to present the release of the publication "State of the City" on Friday, December 16, 2016 at 7 pm at basis e.V.
The catalogue is published on the occasion of the same named project and exhibition.
Preparation for the exhibition "State of the City" took the form of three-month residencies, with two artists chosen from each of Rotterdam, Antwerp, and Frankfurt am Main working creatively on site in one of the other cities. The basis e.V. production and exhibition platform will be presenting the results of these artist residencies in a theme-based group exhibition. The exhibition is marked by the artists' multifaceted approaches and presents their artistic handling of the different social and societal as well as economic and geographical aspects of the three cities. The exhibition is on view until December 18, 2016.
The publication examines the artworks of the exhibition and the preceded artist residencies in Antwerp, Frankfurt am Main and Rotterdam, as well as the creative developments and states of the three cities.
The exhibition and the publication are supported by:
Kulturamt Frankfurt, Mondriaan Fonds, Kulturfonds Frankfurt RheinMain, Deutschte Vermögensberatung, Mya-Nac Culture Fund, CBK/ Rotterdam
*************
State of the City
112 pages,
published by basis e.V.
ISBN: 978-3-9812487-3-9
Language: englisch
price: 18 €
 
With texts from: Wim van der Celen, Dr. Ina Hartwig, Dirk Hülstrunk, Maarten Inghels, Hester Knibbe, Kathrin Meyer, Bart Moeyaert, Christin Müller, Ine Pisters, Alan Quireyns, Felix Ruhöfer und Kamiel Verschuren