You are here
book list for the exhibition Searching for Devices
Friday, 20.02.2015 -

11:00 am

to

7:00 pm
location
basis e.V. Gutleutstraße 8-12 60329 Frankfurt am Main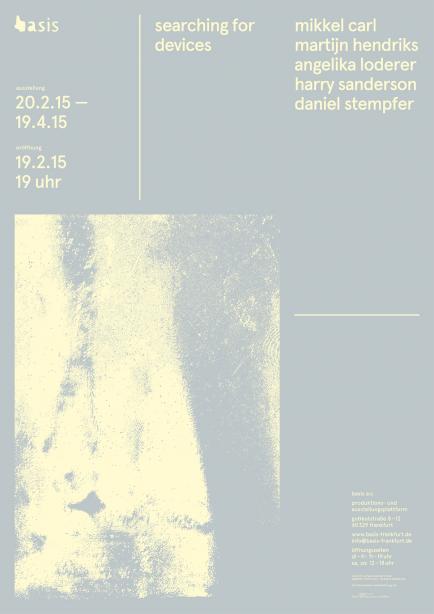 book list for the exhibition Searching for Devices – Mikkel Carl, Martijn Hendriks, Angelika Loderer, Harry Sanderson, Daniel Stempfer
Adorno Theodor: Theses Against Occultism (PDF).
Agamben, Giorgio: The Coming Community, Turin 2013.
Berardi, Franco 'Bifo': The Soul at Work, Los Angeles 2009.
Comolli, Jean Louis: Machines Of the Visible (PDF).
Daston, Lorraine J.: Objectivity, New York 2010.
De Landa, Manuel: A Thousand Years of Nonlinear History, New York 2000.
Deleuze, Gilles: What is a Dispotif (PDF).
Fanon, Frantz: Black Skin, White Masks, New York 2007.
Graw; Birnbaum; Hirsch: The Return of the Figure in Semiocapitalism, Frankfurt am Main 2011.
Haraway, Donna: The Cyborg Manifesto (PDF).
Harrington, Anne: The Placebo Effect: An Interdisciplinary Exploration, Harvard 2000.
Jeffery, Josie: Pflanzensamen: Sammeln, trocknen, tauschen,
München 2013.
Kamper, Dietmar: Die Ästhetik der Abwesenheit: Die Entfernung der
Körper, München 1999.
Kelsey, John: Rich Texts: Selected Writings for Art, Potsdam 2014.
Kluger, Richard: Ashes to Ashes: America's Hundred-Year Cigarette War, the Public Health, and the Unabashed Triumph of Philip Morris, New York 1997.
Krauss, Rosalind: Passages in Modern Sculpture, 1981.
Proust, Marcel: Auf der Suche nach der verlorenen Zeit (7 Bände), Rütten & Loening 1974.
Raengo, Alessandra: Reanimation, Reification and the Money of the Real, World Picture Journal (PDF).
Smith, Patti: Just Kids: Die Geschichte einer Freundschaft,
Frankfurt am Main 2011.
Thanker, Eugene: Dark Life, parrhesia journal (PDF).
Virillio, Paul: War and Cinema, London 1989.