You are here
Artist Talk: Claire Fontaine
Claire Fontaine
Friday, 12.11.2021 -

7:00 pm

to

8:00 pm
location
basis e.V. Gutleutstraße 8-12 60329 Frankfurt am Main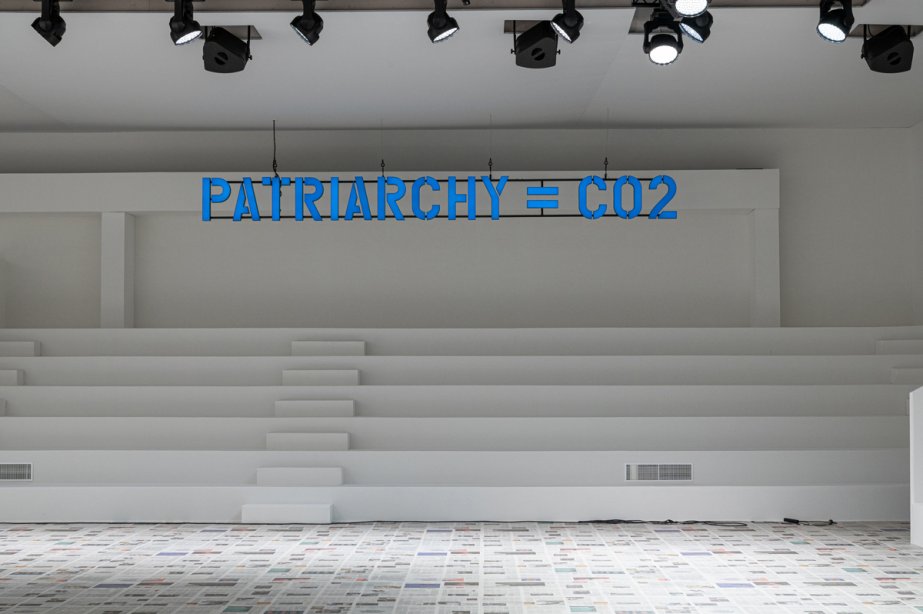 We are delighted to welcome Claire Fontaine to basis e.V. for an artist talk on Friday 12 November 2021 at 7pm.
Claire Fontaine is a collective conceptual feminist artist founded by James Thornhill and Fulvia Carnevale in Paris in 2004. Since 2018 she lives and works in Palermo. Her name is inspired by Marcel Duchamp's iconic ready-made, the urinal entitled Fontaine, and a famous brand of French notebooks (Clairefontaine); it defines a space where the biographies of the artists aren't directly connected to their artworks allowing their research to become a space of freedom and desubjectivisation. The use of appropriation and hijacking in her work stems from the same intention: not highlighting the excellence of the artist's unique singularity but activating the forms and the forces within our visual culture and underlining their political content. Claire Fontaine uses video, sculpture, painting and writing. She has published a comprehensive anthology of her writings with Semiotext(e) in 2020 entitled Human Strike and the Art of Creating Freedom, the artist's books Some instructions for the sharing of private property with One Star Press in 2011 and Vivre, vaincre with Dilecta in 2009. Two monographs on the artist have been published by Koenig's Books: Newsfloor in 2020, with texts by Anita Chari and Jaleh Mansoor and Foreigners Everywhere in 2011, with texts by Letizia Ragaglia, Bernard Blistène, Nicolas Liucci-Goutnikov, John Kelsey and Hal Foster. 
Recent solo shows include Siamo con voi nella notte, Museo del 900, Firenze, 2020; Your Money and Your Life, Galerias Municipais, Lisbona, 2019; La Borsa e la vita, Palazzo Ducale, Genova, 2019; Les printemps seront silencieux, Le Confort Moderne, Poitiers, 2019; #displaced, Städtische Galerie Norhdorn, Nordhorn, 2019 ; Fortezzuola, Museo Pietro Canonica, Villa Medici, Roma, 2016; Tears, Jewish Museum, New York 2013; 1493, Espacio 1414, San Juan, Puerto Rico 2013; Sell Your Debt, Queen's Nails, San Francisco 2013; Redemptions, CCA Wattis, San Francisco, 2013; Carelessness causes fire, Audian Gallery, Vancouver 2012; Breakfast starts at midnight, Index, The Swedish Contemporary Art Foundation Stockholm 2012; M-A-C-C-H-I-N-A-Z-IO-N-I, Museion, Bolzano, 2012; P.I.G.S., MUSAC, Castilla y León 2011; Economies, Museum of Contemporary Art, North Miami 2010.
The artist talk is part of the accompanying programme of our current exhibition "State of High Performance" with works by Jakub Choma, Claire Fontaine, Kasia Fudakowski, Martin Kohout, Ariane Loze and Pilvi Takala, which can be seen at basis e.V. until 5 December.
Here you find the video documentation of the artist talk.
Proof of vaccination, recovery or a Negative PCR test is required for participation in the event.